High Performance Hearing Aid Batteries
Mercury-free Rayovac Proline - High performance hearing instruments require high performance batteries.
Rayovac Proline Advanced Mercury Free delivers more battery life than other mercury-free hearing aid batteries. What's more, it's environmentally friendly, with consistent power and performance that rivals mercury-containing products on the market today. Visit us to get your Rayovac ProLine hearing aid batteries today.
Learn more about Mercury-Free Rayovac Proline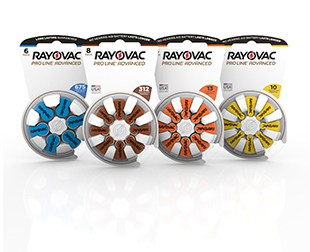 It is important to make sure you correctly dispose of your hearing aid batteries

Keep out of the reach of children
Make sure batteries are secure in the device
Do not leave batteries out where they can be mistaken for medicine or pills
Do not put batteries near the mouth
For more information about battery safety please visit: poison.org
If a battery is swallowed, see a doctor immediately for recommended treatment; call the National Button Battery Hotline collect at 800-498-8666 or Poison Control at 1-800-222-1222.
Experience New RAYOVAC® Pro Line Advanced
For more information on how to change your battery, check out this video!
To benefit from quality hearing healthcare services, schedule an appointment by calling Erie Audiology at
(814) 833-9533
or
click here
to contact us today!